I've picked up digi scrapbooking again! I actually started about three years ago when I was working on a project that I wanted to finish quickly. I then decided that I liked digi scrapbooking better than traditional scrapbooking. It's so much easier on me because I don't have to drag out a ton of things only to be interrupted ten minutes later and have to put everything away. With digi scrapping, I just hit save and come back to it when I can. Then last year, when I had major computer problems I lost some of my programs but lately I've really felt the urge and need to scrap, so I took advantage of some of the many freebies in cyberspace. 
When I started back up this go 'round and was looking at all the digi scrapbooking stuff on the net, I became a bit frustrated at first because everything had flowers or other girlie elements and I have a boy. But then I came to the conclusion that this is our family album, not an album soley for Noah, so the flowers and girlie elements (which I love!) are ok.
So, here's my first page in forever. Whatcha think?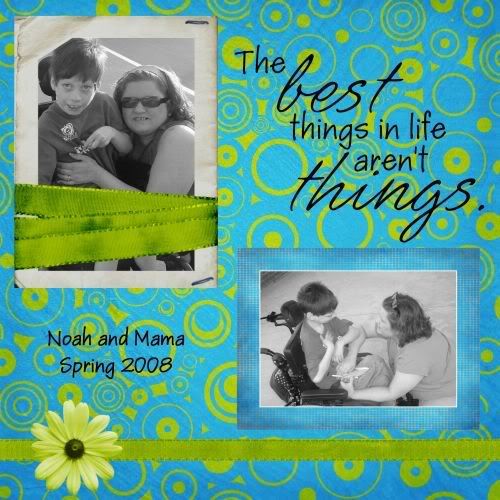 Credits: Paper: Sunshine Days Paper Pack by Silver Rocket Scraps Frame, Ribbon, and Flower: Grape Crush Elements by A Work in Progress